Were the missionaries who traveled from Connecticut to Hawaii during the 19th century products of their time with good intentions, or were they arrogant meddlers who helped dismantle the native culture?
The answer is complicated, said four experts who sat on a panel on Thursday night at Hartford Seminary. The discussion was part of a series of events on Hawaii and its Connecticut connection taking place this year.
The Rev. Dr. Steven Blackburn, Faculty Associate in Semitic Scriptures and Hartford Seminary's Library Director, gave a historical overview of the missionaries, who had great success at converting the Hawaiian people to Christianity. In part, this was because they felt it was their duty to change the native culture.
"They had no fear of disrupting Hawaiian society," he said.
Dr. Blackburn talked about the "collateral damage" caused by the missionaries. "After 200 years, we're still wrestling with the implications of whether the missionaries are good agents or bad agents," he said.
Following Dr. Blackburn, Dr. Clifford Putney of Bentley University discussed his book on two of the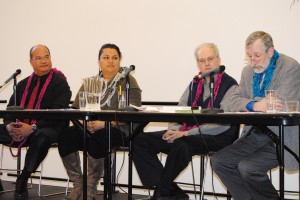 early missionaries to Hawaii: Peter and Fanny Gulick. The Gulicks were passionate about the mission to Hawaii, which would have been considered quite dangerous at the time.
Their legacy, like that of many missionaries, is "mixed." They helped educate native Hawaiians but "the early missionaries did not respect Hawaiian culture," which they found "heathenish."
Aolani Kailihou, a native Hawaiian who teaches at a school that immerses students in the Hawaiian language, talked about the missionaries' impact from the perspective of a culture still grappling with the repercussions.
"It's an emotional topic in Hawaii," she said. "Everyone has their own take."
As a researcher and teacher, she often deals with the journals and writings of the missionaries, who looked down on the people they were trying to convert. "It is not easy to read the things these people wrote," she said.
While Hawaiians are still in some ways recovering from the damage caused by missionaries, she said the future is bright because the "narratives are changing." Interest in Hawaiian scholarship and language is helping to reframe the story.
Dr. David Keanu Sai,  who has a Ph.D. in Political Science specializing in Hawaiian Constitutionalism and International Relations, closed the event by talking about the missionaries from a historical Hawaiian perspective. He said that Chief Kamehameha decided to join the British empire as a way to deal with the warring kingdoms that inhabited the islands. To do that, he "knew he had to transform religion." He was expecting British missionaries, but instead found himself with Americans.
"Christianity did take a very strong hold, not because of the missionaries, but because of the chiefs," he said.