Five Hartford Seminary students who traveled to Oman in January for a course called "Christian-Muslim Relations in Arabia: Ibadi Islam and Interfaith Theology in the Sultanate of Oman" described their experiences Wednesday in a presentation to the seminary community.

They began with a humorous YouTube compilation they called Oman: Adventures in Interfaith and then took turns talking about different aspects of Oman.
Luthfi Rahman, who is from Indonesia, said he wanted to go to Oman to see the "phenomenon of religious tolerance." The geography of the country — just east of Saudi Arabia — and its trading history gave it a tradition of tolerance among Jews, Christians, Muslims and people of other faiths, he said.
Oman's government take steps to maintain the country's attitude of tolerance, including through education and through monitoring religious organizations, he said.
Adeel Zeb gave a brief rundown of the dress and religious beliefs of the Omani people, including comparing them to their neighbors, the Saudis. The Ibadi tradition in Oman has similarities to the Saudi way of practicing Islam, but it has differences as well, he said.
The Ibadi tradition, for example, says that "once someone has heard about Islam, if they don't believe in it, they go to hell." The Saudis, he said, have "more tolerance toward non-Muslims' salvation."
Lien Fina talked about the role of government and its tradition of religious tolerance. "Oman's law guarantees religious freedom despite the fact that it is an Islamic Sultanate," she said.
There are, however, restrictions. Friday sermons, for example, are issued by the Ministry of Religious Affairs and must be uniform throughout the country. Religious educational centers must be registered with the government, she said.
"Does it work? Yes, it does work for the current context of Oman, but it's not an ideal system" with less freedom of expression and freedom of assembly.
Taha El-Nil took a look back at the history of Oman and how quickly it has progressed since the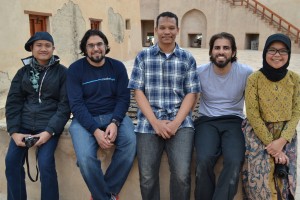 early 20th century. Back then, the life expectancy was 49 years, where it's now 74, he said. The schools and hospitals responsible for that improvement were brought in by Christian missionaries during the 20th century, he said. The discovery of oil in the 1970s has supported the country's growth as well.
Kaiser Aslam finished the presentation with a discussion of the contradictions of life in Oman. On the one hand, newfound wealth means the country looks very modern and beautiful, but it can be backwards in terms of advertising, free trade and free expression. Islam, he said, is infused in the culture, but the uniform Friday prayer means that a personal connection can be lost. He compared the country, overall, to a "teenager who just inherited a lot of money."