At 77 Sherman Street in Hartford, Connecticut, a curious building stands out in a neighborhood of traditional Victorian and Colonial style houses and the Collegiate Gothic look of the UConn School of Law. This building is entirely white with an exterior comprised of large square panels arranged in a grid-like fashion. Windows can be found on all sides, inviting light inside at almost any time of day. Over the years the local community has named this building the refrigerator, the icebox, the igloo, and the UFO.
Since its completion in 1981, this intriguing structure, which was designed by the now-famous architect Richard Meier, has been the signature building on the campus of Hartford Seminary. As the icon of the institution, it is important for it to maintain its original stature and appearance. This year it became clear that the building was in need of a thorough restoration. Director of Administration and Facilities, Roseann Lezak, was at the helm of the effort.
Roseann knew that this undertaking would require an experienced team. After extensive research, she hired Rockwell Restoration. The company, which is based in Plainville, CT, came to Hartford Seminary with glowing references and nearly 40 years in business. Rockwell specializes in restoring buildings, focusing on exterior cleaning and structural repairs. They have done restoration work on a wide range of architecture, including churches, insurance companies, and universities state-wide. This work commonly has them handling stone, brickwork, terracotta, and slate roofs.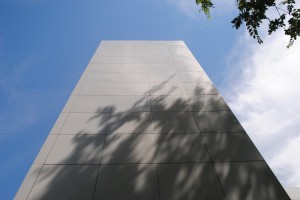 However, the panels of the Hartford Seminary building are made of porcelain on a steel foundation. Porcelain is notoriously difficult to restore, since traditional buffing can damage it. In preparation for this project, Rockwell consulted with field experts in porcelain restoration as well as the facility managers of several similarly constructed Richard Meier buildings.
While helpful, this background research brought them more questions than answers. The problem with porcelain, says one Rockwell employee, is that "there is no set way of cleaning it. You could call ten different architects and they would each give you different methods." Still, almost all sources agreed that the project would require "a lot of elbow grease."
Ultimately, Rockwell executed an approach that worked best for each side of this unique building.
Rockwell conjured up a "secret formula" that they found to be very effective on the more difficult cleaning spots. The north side of the building was particularly dirty as it had stains, mold, and rust residue from the basement boilers; for this, the formula worked wonders. Rockwell is protective of their secret formula, but they did offer that "the cleaner has to be non-acidic" so as not to be too harsh on the porcelain. Rockwell summed up the cleaning method as "a lot of pushing and scrubbing" and that "some areas needed to be hit twice."
The majority of the restoration work extended beyond just cleaning the building. Rockwell restored over 1,000 chips, rust spots, and scratches found on the building's exterior. This level of repair has never before been done before at the seminary.
The unique features of the building meant additional challenges for repairing the white panels. The best way to restore the panels would have been to remove them one by one and ship them out for re-glazing. But, many of the panels are connected on a flange. This meant that they could not be pulled out individually. Rather, they must be removed in what Rockwell described as a "puzzle-like process" where the crew would work their way to a target panel, then go in reverse.
Another downside of this method would be the resulting damage to the miles of caulking between the panels. Hartford Seminary recently invested in an extensive re-caulking of the building, completing it in quadrants over a 4 year-period, so this was not a good option. Furthermore, sending select panels out for re-glazing wouldn't work well because, expenses aside, the bright white color of a new panel would not match the others.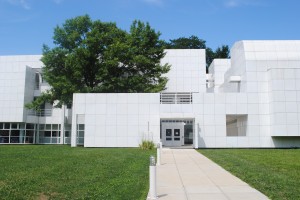 With all of these obstacles, Rockwell had to think innovatively. The chosen restoration solution involved using an epoxy and auto paint combination to fill and blend the dents and scrapes.
Needless to say, Rockwell had a pretty big task at hand. One Rockwell employee commented that "it's definitely not a maintenance-free building." He also noted that on the brilliant white panels, "everything shows."
Rockwell is a relatively small operation comprised mostly of family and friends who learned the trade together over many years. One Rockwell employee commented, "I believe that with a smaller company like ours, you get better quality work. With a smaller crew there is more control over the project."
The Hartford Seminary building was Richard Meier's first commercial build after establishing himself as a residential architect. Meier immediately followed his Hartford Seminary design with the High Museum of Art in Georgia and the Getty Museum in Los Angeles. The Hartford Seminary building is credited as having been the turning point in Meier's career, helping to develop the postmodern direction that he continued to draw from in his subsequent works.
Meier went on to win the Pritzker Architecture Prize in 1984 and the gold medal in architecture from the Academy of Arts and Letters in 2008. Other notable works of his include the Barcelona Museum of Contemporary Art, The Atheneum in New Harmony, Indiana, and Jubilee Church in Rome, among many others.
The Richard Meier style is marked by geometric designs that use the color white prominently. However, at the Hartford Seminary building, Meier incorporated a single pane of blue stained glass into the skylight over the eastern "apse" in the seminary's chapel. Richard Meier included this pane as "a way of bringing sky into the Chapel."
On the outcome of the restoration, Roseann Lezak said that "Rockwell did an excellent job. The quality, detail, and time that Rockwell devoted to this project is greatly appreciated."
For more information on Rockwell Restoration, visit http://www.rockwellrestoration.com/