Hartford Seminary began the International Peacemaking Program (IPP) in 2004, recognizing the need for skilled peacemakers in many countries with which the Seminary has connections, as well as the unique leadership training that could be provided here.
The IPP is for Christians, Muslims or Jews who live in overseas areas where there is interreligious conflict. Students in the International Peacemaking Program spend an academic year studying interfaith dialogue and leadership skills that also includes an emphasis on public engagement and public speaking skills. In addition to their formal studies, students are embedded in a local faith community where they experience American religious culture firsthand. For more information on how to apply to this program or support it with funding, click here.
Recently, we had a chance to talk to the 2014-15 group of IPP students (with the exception of Hasan Doagoo, who was visiting home in Iran at the time of our interviews and will be featured in the near future).  Here's how they answered our questions:
Cingh Lun Niang (Lun) of Myanmar (Burma)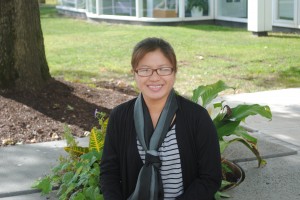 Briefly describe your educational background.
I completed my Bachelor of Theology and Master of Divinity at Myanmar Institute of Theology. Additionally, I have earned my Bachelor of Science Degree in Zoology from Mandalay University.
Tell us a little about your family and work background.
I have been blessed to be a mother of two children and to be the wife of an ordained minister.
For the past decade, God led me to accept a call to serve as Director of the Women's Department at Northern Shan State Baptist Convention. This adventure was challenging but very fulfilling as I worked to equip human resources, to explore the community's basic needs, and to organize the efforts of the community stakeholders. In this leadership role, I had the privilege of working with over 120 different churches. The role gave me the opportunity to use the gifts, talents, and skills that God has been developing in me over a lifetime. From 2012, I am called to serve as Lecturer at Northern Shan State Union Christian College in Lashio, Myanmar. This area is the new opportunity to produce church leaders especially for remote areas. I am motivated to learn deeply about religions by teaching religion.
Briefly describe the religious conflicts in your home country.
In Myanmar, Buddhism has historically been the major favored religion. Various types of political restrictions and discriminations have been imposed on minority religions and ethnic groups for over 50 years. Recently, we Myanmar people have been shocked by the terrible religious violence appearing across the country. Since 2012, my hometown of Lashio has been no exception.
The past two decades have presented many difficulties for those wishing to engage in interfaith dialogue, human rights, peace building. Presently, there has been more government support for dialogue between interfaith groups and peace-building activities. I was a volunteer President of the YWCA Lashio, and in this position I took part in interfaith peace building seminars and projects with non-government women's organizations. Our mission is to engage and advocate for peace, justice, and equality for women and men through working with key stakeholders at all levels toward positive social change in Myanmar.
 Why are you interested in learning about interfaith dialogue and peacemaking?
My knowledge in interfaith dialogue has been very limited. Therefore, when I was looking for the means to equip my education in interfaith dialogue and peacemaking, God showed me the right place to study by directing me to Hartford Seminary on the internet.
What do you hope to accomplish when you return to your home country?
I am confident that living, learning, and worshiping together with the interfaith community at Hartford Seminary will enable me to contribute more fully to my civic community and to extend the necessary support to my home country in more constructive and empowering ways.
Farah Zahra of Lebanon
 Briefly describe your educational background.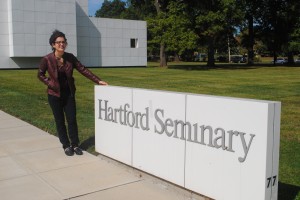 I am a student of knowledge and I will always be one. My choices of major (International Business) and minor (Political Sciences) were not random; it was the way to plug myself into multidisciplinary fields. Apart from attending the American University in my home country, I also attended Institut des Etudes Politiques in Paris and University of Oxford Summer School with special focus in Middle Eastern politics and society. My religious education was mostly gained from ADYAN foundation, a Lebanese foundation for interreligious studies and spiritual solidarity that works on anchoring religious diversity and developing its understanding. There, I attended courses about world religions and religion and public affairs.
Briefly describe the religious conflicts in your home country.
Lebanon was at one time known as a state whose people rose above sectarian divides and whose capital, Beirut, was the Geneva of the Middle East. In 1975, all of that was blown apart due to an intersecterian war. Lebanon was caught in a cycle of threats. Then, Lebanon became "full of sects but empty of religion." The war lasted for 15 years after which the Lebanese lived in a "cold" war. The intensification of the regional conflict put increased stress on Lebanon's system and security infrastructure. Lebanon absorbs most of the regional conflicts tensions. Lebanon's complex religious and ethnic make-up has led to ideological and political polarization and fragmented alliances amongst its eighteen recognized sects. The strategic and critical importance of this small country lies in the fact that it is known for being the political, economic and social "barometer" of the region.
How did you hear about the IPP program at Hartford Seminary?
I was blessed to know about the IPP program through my professor of world religions, who encouraged me to eagerly apply to the IPP program at the prestigious Hartford Seminary.
Why are you interested in learning about interfaith dialogue and peacemaking?
Living in this world lies beyond simply existing. For living is so dear, no one wishes to live what is not life. Learning deliberately or intentionally is intended to make us understand. And as we learn to live, and live to learn, we seem to worship life and strive to live it best through learning and engaging with each other. Whatever the language of worship is, it is the high language of praise, or the language of "commitment." For me, interfaith dialogue is a language of worship and commitment. Interfaith dialogue seeks to explore and investigate; it does not seek to win a debate but to build respectful understanding in relationships with others. It also seems to me that interfaith dialogue is at its best, most fruitful and most effective when non-expert lay people engage with one another. All this must lead to cooperation in the community, friendship through association, and obedience to spiritual commands. As we encounter one another, we engage in a high level of sociability and of consciousness. Dialogue itself is promoted as the world's hope for peaceful reconciliation in the face of all kinds of entrenched conflicts, including conflicts arising from faith differences.
What do you hope to accomplish when you return to your home country?
As I come from a region fired by interreligious conflicts, my aim at the professional level is to embark on the ongoing inter-religion movement in the region, especially the intra-Muslim relations and dialogue. Being familiar with the political, societal and economic background seems to be essential to understanding the religious dynamics in the Middle East. When I return to my homeland, I will devote myself to research, teaching, and academics and perhaps contribute to established research centers, units and collaborations in my field.
Erich von Marthin Elraphoma (Martin) of Indonesia
Briefly describe your educational background.
I completed my undergraduate theological degree from 2000 to 2005 at Jakarta Theological Seminary (JTS). After I graduated, I worked as an editor of theological books at a Christian publisher in Jakarta for one year. Then, I decided to continue my studies and received my Master's Degree in Christian Education at JTS in 2010. After that, I was asked to teach as an adjunct faculty member at JTS. I teach Theory of Christian Education, Teaching Methods, and Christian Education in Pluralistic Church and Society. I also serve as a mentor at JTS dormitory for first-year male theological students.
Tell us a little about your family.
I was born to a Christian Batak-Javanese family in North Tapanuli, North Sumatera, a small area in western Indonesia. I am the first child of five siblings with two brothers and two sisters. My father worked as a minister in a church. My mother is a house wife who devotes her entire life to her children and helping the ministry of the church. One of my brothers works as a teacher and the other as an employee in a housing company. One sister of mine works as an employee in a local bank in Surabaya, East Java. My other sister is still looking for a job after graduating last year.
We grew up in a religious family, but we had the freedom to have many friends from other ethnic and religious religions. We moved every few years. Therefore, my childhood was spent in other parts of North Sumatera and in Bangka Island in Southern Sumatera where many Chinese live. When I was a teenager we moved to Bandar Lampung, Southern Sumatera; Bandung West Java; and Surabaya, East Java, where Muslims are the majority.
 Briefly describe the religious conflicts in your home country.
The religious landscape in Indonesia, and all over Southeast Asia, is largely characterized by religious diversity. For hundreds of years we had lived in peace and harmony. However, an event in 1998 sparked a religious war. It began from a trivial quarrel between a public transportation driver and a local resident in Maluku, eastern Indonesia. Because the issue was politicized, it resulted in a war between the Christian and Muslim religions. The resulting conflict ended in 2002 with thousands dead.
Occasionally, there are still some conflicts in a few area of Indonesia since hard lines groups have raised and spread their teachings. The Indonesian constitution and most laws and policies are committed to protecting religious freedom, but there are certain laws and official actions that do not. In 2006, a regulation from the Indonesian government presented a challenge for interfaith relations. The regulation set restrictions for small groups attaining the right to build places of worship. As a minority, Christian churches faced opposition from the majority Muslim community and local leaders in some parts of Indonesia. The Taman Yasmin Church in Bogor, West Java, for example, has been battling a decision from the mayor denying the legality of their building permit, and has been closed since 2011. In addition, fundamentalist Islamic groups have jumped into the fray in some of these situations while police stand by and watch. In one instance, in March 2013, the Batak Protestant Church Taman Sari Church in Bekasi, West Java, was demolished following opposition from the Taman Sari Islamic People's Forum.
How did you hear about the IPP program at Hartford Seminary?
One of my colleagues at Jakarta Theological Seminary, Hans Harmakaputra, was an IPP student two years ago. He shared his experiences from the program and I was really interested. Then in January 2014, the President of Hartford Seminary Heidi Hadsell visited my seminary and spoke about Hartford Seminary and its programs. Without any hesitation, I applied for this program, and here I am.
Why are you interested in learning about interfaith dialogue and peacemaking?
Learning from the international community today is a basic need to build a better understanding of interfaith relations with others. I believe that we all must overcome prejudices that prevent us from having harmonious relationships and working together with people of other faiths. We are human beings and we can live together.
Without any distinction of race, religion, ideology, all people in the world today need peace. The problem is that there are differences that humanity has trouble ignoring, and those differences are often used as to trigger conflict. The conflicts cause many disadvantages, both material and non-material, such as psychological problems, damaged relationships with others, oppressive acts, injuries to others, poor economic, social and political development, unhealthy political situations, poor education, and a lack of vision. These happen because many people are not able to process differences and celebrate plurality as given through the grace of God. For me to live and learn in an international community, learning interfaith dialogue and peacemaking, I will be given a great chance to share stories and experiences about our problems and our world's needs for peace.
What do you hope to accomplish when you return to your home country?
As far as I know, Hartford Seminary is the only seminary that provides for the study of all Abrahamic religions. Therefore, this seminary is the right place to study those religions and how they relate with others. In Indonesia, I only have the opportunity to learn about Islam. I imagine that I can learn a lot of things at Hartford Seminary about the theories and practices of interfaith dialogue and relationships. Such experiences will provide good insights for me as a citizen of Indonesia in the context of religious plurality. Every day I encounter individuals of other faiths. I hope the learning experience at Hartford Seminary can deepen my understanding of interfaith relations and cultivate and strengthen my passion to work in the midst of difficult situations and challenges. It can also encourage me to expand my networks of friends who have the same dream for harmonious life on earth.
I also hope that an experience studying at Hartford Seminary will assist my reflections from a Christian perspective and help me to know other religious perspectives. Such reflection will expand the horizon of my understanding of other religions and help me to write more clearly and wisely for my fellow Indonesian citizens.
I teach in seminary and give sermons in churches, especially for teens and youth. Therefore I can continue to teach and share the stories and experiences in this country and this seminary in the class and churches so the people can be encouraged to get involved in peacemaking.