Profs. Yahya Michot and Mahmoud Ayoub will speak on Oct. 8 at Central Connecticut State University along with Prof. Ghassan El-Eid, Professor of Political Science. The panel will discuss ISIS/ISIL, the Islamic World and Muslims. The program, which starts at 5:30 p.m. in the Robert Vance Academic Room 105 at CCSU, is sponsored by the Middle East Studies Committee, Center for International Education, Political Science Department, Peace Studies Program, The International & Area Studies Committee, and the CCSU Muslim Student Association. All are welcome. For more information: A. Antar (860) 582-1002, or N. Sadanand (860) 832-2942.
Prof. Shanell T. Smith has been invited to share a summary and sign copies of her new book at Yale Divinity School on Nov. 13 at 5 p.m. Her book,  The Woman Babylon and the Marks of Empire: Reading Revelation with a Postcolonial Womanist Hermeneutics of Ambiveilence (Emerging Scholars), was released this week. Click here for information about her book signing event at Hartford Seminary on Oct. 23.
An article in Leading Ideas cited congregational research by Faith Communities Today, which is produced by the Seminary's Hartford Institute for Religion Research under Profs. Scott Thumma and David Roozen. The article, "What's Your Church's 'Ladder'?" by Lovett H. Weems Jr., used Faith Communities Today research to talk about making a church stand out from other congregations in the same community. Congregations that offer something different or unique have a better chance of staving off decline, the article said.
OdysseyNetwork.org published an article by Prof. Shanell T. Smith on Sept. 29, 2014. The article, What If the Earth Was God's Vineyard? (Matthew 21:33-46), addresses the People's Climate March, held in New York City last weekend. It asks: "What if we imagine God's vineyard as described in Matthew 21 to be this beautiful world we inhabit? What will happen if we reject it – if we continue to treat it with disrespect, fail to listen to its natural woes, dismiss the warning signs it gives us? What if God is keeping score? Oh. Dear. Might I remind us all, that if we do not tend to this earth, we are only inevitably hurting ourselves and the lives of future generations?"
Prof. Lucinda Mosher's article, "Christian-Muslim Encounter: Studying the Theological Dimension Dialogically," appears in the Journal of Faculty of Theology of Bozok University, Volume 5:5 (2014/5). While the other items in this issue are in Turkish, Dr. Mosher's essay is in English. However, the piece has been translated into Turkish by Dr. Kenan Çetinkaya and will be included in a book on dialogue that he is editing and which will be published in Turkey. 
Prof. Lucinda Mosher, director of Hartford Seminary's Multifaith Chaplaincy Program, will speak on "Building Compassionate Interfaith Neighborhoods" for the inaugural event of the Greater Pittsburgh Interfaith Coalition, Sunday, Sept. 14, 2 p.m. to 4:30 p.m., at St. Mary of the Mount Church in Pittsburgh.
Have guitars and drum sets replaced the organ in church services? Prof. David Roozen was quoted in an article in the Gainesville (Fla.) Times about a trend toward more contemporary worship styles. The newspaper cited a report released by the Hartford Institute for Religion Research at Hartford Seminary. The study, "A Decade of Change in American Congregations," said the top trend has been to include contemporary worship in services. "Indeed, the increase is dramatic, especially for those who carry lingering memories of the church as the 'Rock of Ages,'" Prof. Roozen wrote in the report.
Prof. Yehezkel Landau has been invited to facilitate an interfaith conversation during "A Day of Assembly within the Christian, Islamic and Judaic traditions" on Sept. 10, 2014, in Montclair, N.J. Panelists for the event include Imam Kevin Dawud Amin, the Rev. Dr. Campbell B. Singleton III, and Rabbi Elliott Tepperman.
Prof. Feryal Salem represented Hartford Seminary on a panel called "Professionalizing Islamic Education" at the Islamic Society of North America annual conference over Labor Day weekend in Detroit.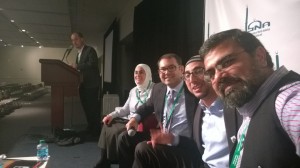 Representatives from Chicago Theological Seminary, Zaytuna College, and Bayan Claremont College spoke about their programs as well. Prof. Salem focused her presentation on Islamic Chaplaincy and what Hartford Seminary does that is unique. She also discussed the need for Muslim chaplains and highlighted the exceptional training Islamic Chaplaincy students receive at Hartford Seminary.
What is moderate Islam? It depends on whom you ask, writes Prof. Najib Awad on Syriadirect.org. The article states: "As a [Christian] theologian, Awad notes that the concept of 'moderate Christianity' is not rooted in the history of Christianity. Nor is it with Islam or Judaism, meaning that the burden falls on modern Islamic thinkers to outline their vision of what moderate Islam truly is. Islam is neither extremist nor violent, Awad says, but without theological guidance on what moderation is, Islam will be claimed by various 'agendas, parties, fronts and powers' looking to advance their own interests." The article was originally published in Arabic in Lebanon's Al-Mustaqbel daily.
President Heidi Hadsell is attending the International Council of Christians and Jews conference in Buenos Aires, which runs from Aug. 19-21. The council is an umbrella organization for 38 Jewish-Christian dialogue groups around the world. Dr. Hadsell will be a respondent to the keynote speaker, Rabbi Abraham Skorka, who is speaking about "50 Years of Interreligious Dialogue in Latin America."
Prof. Scott Thumma contributed to an article by AM New York entitled "Traditional NYC civic and fraternal groups struggle to renew themselves." The article discusses declining participation in civic organizations and activities. Numerous factors for this decline are given, including more career-focused individuals and shifting societal values. Prof. Thumma drew parallels to activity within religious organizations, citing census data regarding the loss of 725,000 religious "adherents" in the New York metropolitan along with an increase of 566 churches. This shows that more individuals are breaking into smaller organizations to worship in "their" way. "The demise of civic mindedness and interest in group life," combined with greater emphasis on "the achievement of individual goals," is evidenced in anemic block associations to the inability of Congress to pass useful legislation," Thumma said.
Prof. Scott Thumma was also quoted in an article on Forbes.com about how many church leaders are unaware that third parties such as Google or Facebook can track their members' website use. The article, "God Is Not The Only One Watching Over Your Church's Website," said that third-party companies often use such data to target advertising. "It does seem invasive of personal privacy," Prof. Thumma said in the article. "I am absolutely certain that very few religious leaders know their sites have this form of tracking … nor do most small secular businesses. They barely comprehend the basics and haven't even considered tracking technology or the ethical implications of these features with their members."
The Interfaith Observer published an article on July 15, 2014, called The Expanding Interreligious Horizon at Hartford Seminary. The article focuses on Prof. Lucinda Mosher's Religious Diversity Leadership Workshop, which ran for the third year in June. The article called the Hartford Seminary program the "perfect example" of the trend toward including non-Abrahamic traditions with its inclusion of a Zen Buddhist co-facilitator and more of an emphasis on Asian religions. "RDLW is a significant detour from Hartford's past, even though for more than a century it has offered courses in Islam and Christian-Muslim relations. Indeed, for more than a decade it has served as the only accredited Islamic chaplaincy program in North America. This past decade has also included a pioneering training program called "Building Abrahamic Relationships," facilitated by Professor Yeheskel Landau. It offers a practical foundation for mutual understanding and cooperation among Jews, Christians, and Muslims."
The Washington Post had Prof. Scott Thumma put a recent poll into perspective in  July 2014 article. The Pew Research poll asked "Which is your favorite faith group? and most Americans, not surprisingly, said their own. But respondents who personally knew people of other faiths had more favorable opinions of those faiths. Prof. Thumma added that deeper research shows that Americans speak and think differently about other faith groups when asked in the abstract, than they do when they are asked about specific interactions with people they know.
Prof. Yahya Michot's article "Ibn Taymiyya's Critique of Shī'ī Imāmology," Translation of Three Sections of his "Minhāj al-Sunna," has been published in "The Muslim World", 104/1-2, Jan. – April 2014, p. 109-149. He has also released the first of three online programs in French on Ibn Taymiyya ("Who Was Really Ibn Taymiyya?"). The programs were recorded in Paris last May at Oumma TV.
Prof. Shanell T. Smith is one of eight seminary educators from a variety of backgrounds who wrote pieces for a new book exploring what it means to be a reader in a seminary context. The book, "Reading Theologically," releases on July 1.  Her article is "Reading Spiritually."
Hartford Seminary President Heidi Hadsell will be attending a Council on Foreign Relations event on June 24 and 25 in New York City. The eighth annual Religion and Foreign Policy Summer Workshop will include conversation on ending child marriage, the state of religion in America, and extremism, censorship, and the Internet. From June 25-27, President Hadsell will be attending the biennial meeting of the Association of Theological Schools. The meeting invites the "leaders of member schools to think critically about how in the future their institutions will resource theological education in new and more effective ways—ways that respond to the changing global context, embrace innovation, and offer truly sustainable solutions."
C. Michael Hawn, a Professor of Church Music at the Perkins School of Theology, SMU, wrote an article about Prof. MT Winter and one of her hymns for the website GBOD.org (The General Board of Discipleship of The United Methodist Church). The article describes Prof. Winter as "a prophetic voice in liturgical studies and feminist ritual for several decades" and examines the hymn, "Wellspring of Wisdom," which was commissioned by the Hymnal Revision Committee for The United Methodist Hymnal (1989). "'Wellspring of Wisdom' draws upon Dr. Winter's understanding of feminist ritual reflected in publications such as Woman Prayer, Woman Song (1987), and Defecting in Place: Women Taking Responsibility for Their Own Spiritual Lives (1995)," he writes. "This hymn reflects the deep tradition of Wisdom as a source of knowledge."
As the 2014 "Alum of the Year," Academic Dean Uriah Kim was the subject of a feature story in the Spring 2014 edition of "Currents," a publication of the Graduate Theological Union in Berkeley, CA. "GTU is where I truly found my theological voice," he said in the article, noting that the institution's interreligious environment "uniquely prepared him for the multi-faith context in which he ministers as dean of Hartford Seminary."
On Tuesday, May 20, Prof. Shanell T. Smith will be featured in a webinar called Moms and Dads Who've Made It. Prof. Smith and Prof. Kathleen Gallagher Elkins will talk about how to manage getting a Ph.D. while being parents.
On Saturday, May 10, Prof. Lucinda Mosher led a dinner discussion with deacons from the Episcopal Diocese of Connecticut on exploring the multifaith neighborhood. On Tuesday evening, May 13th, she will be the guest preacher for the service of installation of the new rector of St Paul's Episcopal Church in Brunswick, Maine.
Profs. Lucinda Mosher, Feryal Salem, and Najib Awad are among the 30 scholars from or working in 18 countries who are participating in the 13th Annual Building Bridges Seminar meeting the week of April 28 in Warrenton, VA. Founded by the Archbishop of Canterbury, the seminar has been under the stewardship of Georgetown University since July 2012. The seminar brings together a range of internationally recognized Christian and Muslim scholars for three days of intensive study of texts from their traditions. The theme for Building Bridges Seminar 2014 is "Sin, Forgiveness, and Reconciliation: Christian and Muslim Perspectives." Dr. Mosher is Assistant Academic Director of the Building Bridges Seminar.
Prof. Lucinda Mosher's Death, Resurrection, and Human Destiny: Christian and Muslim Perspectives  was published by Georgetown University Press. She co-edited the book with David Marshall of Duke Divinity School. The book is the proceedings of the 2012 Building Bridges Seminar — an annual international colloquium of scholars. Dr. Mosher is the Assistant Academic Director of the seminar.
Prof. Najib Awad's latest book, Persons in Relation: An Essay on the Trinity and Ontology, has just been published by Fortress Press.  Praise for the book: "Persons in Relation represents a thought-provoking contribution to the debate over the relevance of Trinitarian theology in a postmodern world. After critically analyzing the shortcomings of the Modernist understanding of selfhood and subjectivity, the author proceeds to show how postmodern theology is still largely subordinate to modernity when it comes to the relationship between theology and other scholarly disciplines and forms of inquiry." —Assaad Elias Kattan, University of Muenster. To learn more about the book, click here for the Contents, Preface, Introduction, and Sample Chapter.
Prof. Scott Thumma was quoted in a Religion News Service article on the "Slow Church" movement that was picked up by various newspapers, including The Washington Post. The movement is based on a book advocating that churches take a similar approach to the slow food movement. In the article, Prof. Thumma said the "Slow Church" approach isn't like to work for most churches. "We'd all like to have a slow-cooked, three-hour meal, with locally grown produce," he said. "But few of us have the time or money for it." He was also cited in an article in Charismanews.com titled "Too Many So-Called Christians Merely Giving Lip Service to Jesus." In it, the author quotes the book The Other 80 Percent, written by Prof. Thumma and Warren Bird. 
Prof. Lucinda Mosher will be one of seven scholars from Turkey, the UK, and the U.S. who will be meeting at Virginia Theological Seminary on March 20 and 21 for a round-table conversation on future trends in the study of Bediuzzaman Said Nursi — a major Turkish spiritual leader during the first half of the 20th century. Nursi, considered one of the most influential Muslim theologians of the modern period, urged unity between Muslim and Christian believers.
Prof. Yehezkel Landau will lead a course on March 13 and 14 for the Capital Region Theological Center on "Finding Sacred Common Ground" at Congregation Gates of Heaven in Schenectady, N.Y.. Prof. Landau also wrote an article that appeared in the Times Union in advance of his appearance. "The Power of Interfaith Alliance" describes the many reasons Americans should overcome fears of religions with which they are not familiar. "At a time when religion is too often hijacked by extremists or manipulated by politicians, we need to find ways of tapping the healing power latent in all our religious traditions," he wrote.
Prof. Scott Thumma was quoted in an article in the Kansas City Star on a megachurch that is expanding:  "You don't see many of the megachurches putting up larger buildings," said sociologist Scott Thumma of the Hartford Institute. "You see them spinning off to other, smaller locations." As membership expands or contracts through the decades, large congregations can adjust by opening or closing satellite churches. Perhaps the greatest worry for any church erecting a sanctuary for the century, Thumma said, is the volatility that can occur with a change in leadership. "There are a number of empty megachurches around that were unable to replace a popular leader," he said.
Prof. Lucinda Mosher is in Atlanta to take part in the annual meeting of the Consortium of Endowed Episcopal Parishes. She will be one of the authors featured at a booksigning event at the Cathedral of St Philip. On March 1, she will be one of the panelists discussing "Fresh Trends in Episcopal Theology for the 21st Century."
Academic Dean Uriah Kim's essay "More to the Eye Than Meets the Eye," was published in Biblical Interpretation. Students can read this article about the story of Samson via the Hartford Seminary library, which subscribes to this journal.
Two of Prof. Najib Awad's academic essays have recently been published in peer-reviewed journals: "Religio-phobia: Western Islam, Social Integration and the Resurgence of Religiosity in Europe," in The Muslim World, 103(4), 2014, 433-447 and "At the Dawn of 'Practice', or Re-Thinking the Nature and Role of Theology and Doctrine in the Church," in Journal of Reformed Theology, 8(1), 2014, 3-34.
On Feb. 9, Prof. Lucinda Mosher was the presenter for the Adult Forum at Saint Peter's Lutheran Church (NYC). Her topic was "'Torch-Woman' and 'She Who Asks "Where Is the Prince?': A Fresh Look at Deborah and Jezebel." Prof. Mosher also recently had an essay published in the Winter 2014 issue of the Anglican Theological Review. It can be viewed at this link by clicking on the blue and white snowflake icon, then the title:  "The Episcopal Church and Religious Manyness: Steps Toward a Theology."
Between February 20-22, Prof. Najib Awad will participate in a conference held in Erlangen-Nuremberg University, Germany. The title is "Exegetical Crossroads: Understanding Scripture in Judaism, Christianity and Islam in the Medieval Orient." He will read a paper titled " 'Min al-'Aql wa-laysa min al-kutub': Scriptural Evidentiality, Rational Verification and Theodore Abu Qurrah's Apologetic Epistemology."
Over the Winter break, Prof. Feryal Salem conducted a Three-Day Women's Fiqh (Islamic Law) Intensive in Chicago for the "Ink of Scholars Series" sponsored by the Nur Foundation for Sacred Sciences. Prof. Salem has been asked to continue the series quarterly.
During January,  Prof. Yehezkel Landau lectured on religious peacebuilding in Israel/Palestine, and then facilitated conversations, at two churches:  at Christ's Church in Saxtons River, VT, on Jan. 22, and at St. John's Episcopal Church in Essex, CT, on Jan. 25.  He also led an interfaith worship service for residents at the Duncaster Retirement Community in Bloomfield on Jan. 26.
Prof. Scott Thumma and research by the Hartford Institute for Religion Research has been quoted in several news articles in January: