The Hartford Seminary's lobby is once again filled with stuffed animals, games, dolls and toy trucks for the annual Christmas Gift-Giving Ministry organized by Prof. Miriam Therese Winter and M.A. student, Rev. Gail Williams, who is also a graduate of the Women's Leadership Institute." On Thursday, Dec. 11, Deputy DCF Commissioner Fernando J. Muniz  visited the Seminary to see the ministry in action as social workers and others "shopped" for gifts for their clients.
"It's always a huge help to the department and to the families that we serve," Muniz said. "It's been a great partnership every year."
For years, the program benefited the children of women incarcerated at the prison in Niantic. Two years ago, the program was reinvented as a way to reach children in the Greater Hartford area who fall through the cracks of the social services network. More than 1,000 children will receive gifts through the program.
The Rev. Williams was on hand Thursday to help social workers look through the toys for the perfect gift for their clients, many of whom would receive nothing for Christmas otherwise.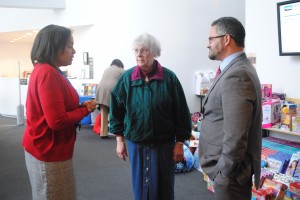 Using 100 percent of donations received for this project in recent weeks, Prof. Winter and her helpers purchased new toys during the Black Friday weekend for the giveaway. Also available were hundreds of stockings and gift bags stuffed with toys donated by WLI graduate Sandra Russak.
Tax-deductible donations for the program can be made to:
Medical Mission Sisters
c/o Miriam Therese Winter
77 Sherman St.
Hartford, CT 06105
For more information, call 860-233-0875 or email mtwinter@hartsem.edu