Instructors from around the world came to Hartford Seminary in June 2015 to teach a class called "The Spirituality and Practices of Asian Religions."
Fourteen students were enrolled in this week-long intensive, which included three public lectures and a visit to the Shinnyo-en Temple in White Plains, N.Y. The course was made possible by a generous grant from the Shinnyo-en Foundation and coordinated by Dr. Michiaki Okuyama.
President Heidi Hadsell said she was grateful to the Shinnyo-en Foundation for developing this course and offering it in Hartford. "It's so important for Hartford Seminary to include Dharmic religions and spirituality in the interfaith conversation here," she said.
Program Director for the Shinnyo-en Foundation, Dr. Ineko Tsuchida, said the course came about partly as a result of Shinnyo-en's previous experience in working with Hartford Seminary. It was also an attempt, she said, to meet an expressed need in the community to learn more about Dharmic religions.
"Hartford was so flexible to accommodate our requests," she said. "Creating a course is very challenging, and Hartford said, 'We can do it.'"
Working with Hartford Seminary, Dr. Okuyama selected the lecturers, invited them and coordinated with them about the lecture content. He also coordinated with the temple manager, Rev. Eitaro Hayashi, for the course participants' visit to the Shinnyo-en Temple.
"Without his expertise in Asian Religions, this course would not have been possible," Dr. Tsuchida said.
In the future, the foundation would like to continue to expand the content of the course and invite additional speakers, as well as reaching out to a wider community.
In addition to the course work, three of the instructors gave lectures to supplement the course and to educate the public.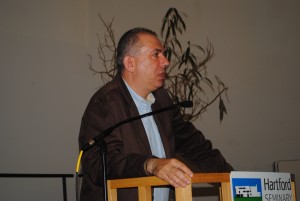 The first was on Tuesday, June 9, by Mario Poceski, an associate professor of Buddhist studies and Chinese religions at the University of Florida. Prof. Poceski talked about religious pluralism in China. The first part of the lecture focused on three main religious traditions — Buddhism, Confucianism, and Daoism — and how they were practiced during China's Golden Age of Civilization from 618 to 907 A.D. The second talked about the modern-day religious landscape, in which segments of the Chinese population practice a variety of religions.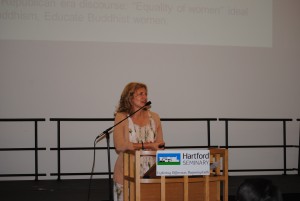 A second public lecture on June 11 was given by Elise Ann DeVido, a Visiting Assistant Professor at Duke University. Prof. DeVido described how Buddhist nuns have been instrumental in the globalization of Buddhism. Nuns in China and Taiwan constructed networks and built bridges between eras, people, institutions, and regions.
The third lecture was given on June 13 by Hank Glassman, Associate Professor of East Asian Languages and Cultures at Haverford College. He spoke about a deity called Jizô bodhisattva and about the place of religious icons in medieval Japan.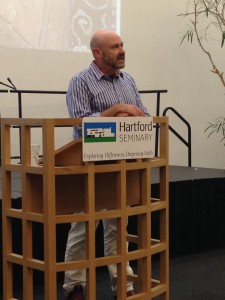 The course itself introduced students to religious life and spirituality throughout Asia, with a focus on daily practices. Each instructor was a specialist in one tradition of Indian, Chinese, Korean or Japanese religions.