An unlikely pair riveted a Hartford Seminary audience on June 10 with the story of how they met, and how that meeting changed both of their lives. One, Hanan Schlesinger, is an Orthodox rabbi who is also a West Bank settler. The other, Ali Abu Awwad, is a Palestinian activist who grew up under Israeli occupation and whose brother was killed in the ongoing conflict.
An unusual meeting they both attended in January 2014 became the basis for Roots: A Local Palestinian-Israeli Initiative for Understanding, Non-Violence and Transformation. As representatives of Roots, Rabbi Schlesinger and Awwad are now touring the United States to bring their message of "painful hope" and reconciliation. They came to Hartford Seminary at the invitation of Prof. Yehezkel Landau and participated in his annual weeklong class called Building Abrahamic Partnerships.
Rabbi Schlesinger opened the program by talking about his deep conviction that the Jewish people were meant to return to the land of their ancestors.
"Jewish identity is collective identity," he said. "I describe myself as a Zionist. … I'm not so naive to think that the word doesn't have political connotations, but it's a religious statement."
Schlesinger lives in a settlement in the West Bank, an area Jews call Judea and Samaria. He has long believed that the Jewish people belong to that land and were fulfilling their destiny by returning to it after the devastation of the Holocaust.
But after meeting with Awwad and a small group of Palestinians only a year and a half ago, his feelings have been irrevocably changed.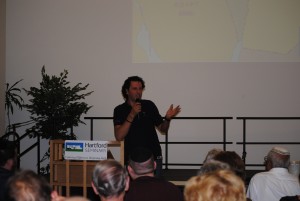 "I think that the power of the truth, the righteousness, have blinded me all my life to another truth," he said. "I was so wrapped up in the fulfillment of the Jewish people, that I didn't see what it was doing to another people. I didn't see them. We just don't see that there's another people there whose rights and dignity and humanity is being trampled."
The January 2014 meeting came about through an invitation by an American minister, Rabbi Schlesinger said. The minister asked him via email if he would be willing to meet with some Palestinians, face to face. He almost didn't go, even though the meeting was only a 20-minute walk from his house, because it was potentially dangerous.
Before that day, Rabbi Schlesinger said, he had never met a Palestinian as a peer, only at checkpoints or as day laborers who came to work at his house or garden. But during that initial meeting, he suddenly saw that the Palestinians and their children viewed him with fear. He also listened to Awwad, who described living under Israeli occupation and the loss of rights and dignity associated with it.
Rabbi Schlesinger called these revelations "challenging, offensive, but not false.
"I didn't know what to do with myself," he said. "I believe in my truth … but my truth is only a partial truth."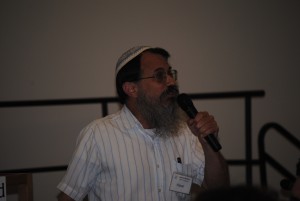 He decided that he had to make amends and act differently. One of the consequences of that meeting was the Roots organization, which was formed to create a grassroots understanding between the two groups that could lead to cultural change. Eventually, both hope, that could lead to political change.
Awwad spoke to the group about his own experience as someone who grew up with the constant presence of the Israeli army. He has never known a country without conflict, and he would head to school each day wondering if he would come back. Nights were often sleepless, he said.
At the age of 17, during the intifada that started in 1987, Awwad was arrested for throwing rocks and threatened with imprisonment if he didn't provide information on his mother's activities. He was sentenced to 10 years in prison and his mother was jailed as well. He thought his future was destroyed.
Strangely, prison became his "university," as many of the best Palestinian minds were there as political prisoners. He learned Hebrew and English, read extensively, and became an activist.
"It was not the criminal environment that you think about," he said.
After three years, he participated in a hunger strike to be allowed to see his mother, and was later released. Subsequently, he became involved with the non-violence movement. In 2000, his brother was violently killed and he was badly wounded. Eventually, in a group that brought together bereaved relatives, he met some Israelis.
"I couldn't imagine that Jewish people have feelings," he said, echoing Rabbi Schlesinger's sentiment upon meeting him.
In 2002, he became an activist and has been one since, working to bring about change through non-violent means.
"Today, I believe that both sides are acting as victims," he said. "Victims will always have this competition of suffering."
The 2014 meeting that led to Roots also helped open Awwad's eyes to the perspective of the West Bank settlers. The Roots group now wants to work to bring awareness to each other's narratives in the name of building a groundswell of support for change.
Both Awwad and Rabbi Schlesinger said they didn't believe either side would compromise until they understood something about the other's plight. More information on Roots can be found at this website.
Videos of the full presentation are below in Parts I and II.