The first academic chair dedicated to Shi'i Studies in North America had its formal debut on January 22, 2016, at an inauguration banquet at Hartford Seminary. Friends, family and supporters of the chair's first occupant, Dr. Sayed Ammar Nakhjavani, were in attendance to mark the historic occasion, as well as students, donors and fellow academics from around the world, including the U.S. and Canada, Europe and Iran.
The Imam Ali Chair for the Study of Shi'i Islam and Dialogue Among Islamic Legal School was established to provide a voice in the academy for Shi'i Islam, as well as to encourage dialogue among the diverse Islamic legal schools, including Shi'i and Sunni. Master of Ceremonies Dr. Timur Yuskaev described the evening as an "important occasion when it comes to the history of Muslims in the United States" and "another step in the American tradition of Muslim unity."
President Heidi Hadsell began the evening program by saying, "The dedication of a new chair is always a special joy."
She described the conception of the chair and the campaign to fund it, pointing to Dr. Mahmoud Ayoub, who recently retired from teaching at Hartford Seminary, as the motivating force behind it.
"Dr. Mahmoud Ayoub had the dream of a Shi'i chair at Hartford Seminary," she said. He helped the school to see the importance of contributing to intra-Muslim dialogue in addition to its efforts in interreligious and other intra-religious work.
"Thank you for your patience, wisdom and indefatigable spirit," she said.
Speakers throughout the evening emphasized the chair's unique nature and the ways in which it supports Hartford Seminary's mission to explore differences while deepening faith, as well as its long history of scholarship in Christian-Muslim relations.
Among others, President Hadsell praised the Rev. Dr. Jonathan Lee, who was Hartford Seminary's Chief Development Officer while much of the fundraising was done for the Imam Ali Chair,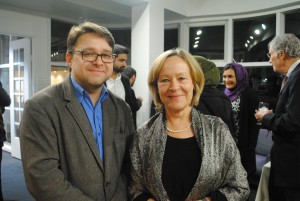 Hartford Seminary Trustee Dr. Ali Shakibai, Hartford Seminary Corporator Syed Raza, and Hartford Seminary student Morteza Rezazadeh, whom she described as a "leader and visionary in his own right and a much cherished part of this community."
President Hadsell then singled out the contributions of Dr. Ayoub's wife, Lena, who provided countless hours of hospitality at the Ayoubs' home while the committee tasked with forming the chair met.
"I will tell you that this chair might not have been possible without the endless hospitality provided by Lena," she said.
Academic Dean Uriah Kim spoke about the importance of the Imam Ali Chair to the students at Hartford Seminary, especially those who are Shi'a and will benefit most from having representation on the faculty. "To have another hand on deck is really a gift to Hartford Seminary," he added.
In his remarks, Dr. Ayoub spoke about his long history with Hartford Seminary, including his first lecture here in the 1970s after he received his Ph.D. from Harvard University. In 2008, he returned as a faculty associate to teach courses in Shi'i Islam. He also had two dreams, both of which have been accomplished.
One was to establish a chair for the study of Shi'i Islam and dialogue among Islamic legal schools. The other was to see the Seminary restore its Ph.D. program. This fall, students will accepted for a Ph.D. program in Islamic Studies and Christian-Muslim Relations.
"I am no longer a member of the faculty, but I will remain a member of the Seminary whether you like it or not," he joked.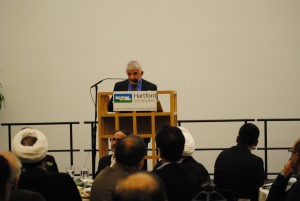 Dr. Ayoub described meeting Dr. Shakibai and Syed Raza and how they formed a committee to establish the Imam Ali Chair, knowing it was a long shot. "How many people told me, 'You can't do this,' but we kept going until we connected with Sayed Ammar [Nakhjavani], my spiritual son."
"Under his guidance, many things, inshalla, positive and good things will happen," he said.
The reason for the chair, Dr. Ayoub said, is not to create a rival program for the study of Sunni Islam, which represents the vast majority of Muslims. It is to include the voice of Shi'i Islam in a place that has such a special history and role in Christian-Muslim relations.
"What we need most is Muslim unity," he said, pointing out that "unity" is not the same as "uniformity." "And hopefully, this chair will serve that purpose."
Next on the program was Dr. Asgarali Moledina, President of the Shi'a World Federation, who spoke about Hartford Seminary's many "firsts," which include being the first U.S. Seminary to admit women in 1889. The Imam Ali Chair, he said, fulfills a promise to the late Dr. Duncan Black Macdonald, who established a center to study Islam at Hartford Seminary in 1893, another first.
Next, Skyping in from London, was Dr. Mohammad Ali Shomali, Director of the Islamic Centre of England, who described the evening as "a very historic moment." He praised the establishment of the chair as a way to make the worldwide community more aware of the contributions of Imam Ali, who is especially revered by Shi'i Muslims. Imam Ali, Dr. Shomali said, had "concern of the rights of all human beings."
Dr. Nakhjavani , a prominent Shi'i scholar named one of the 500 most influential Muslims in 2015, took the podium last. He said he was "not the one deserving of praise and thanks tonight" and said the chair was a reflection of the important contributions of Dr. Ayoub, who has had a major role in leading the scholarship on Shi'i Islam for many decades.
"For him to choose me as the holder of this chair is a great honor," he said.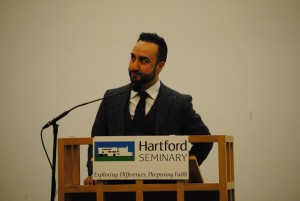 Dr. Nakhjavani gave special thanks to his parents, who were in the audience, for instilling in him a faith and love for Imam Ali. The world needs to hear more about such an important figure, the "voice of human justice," he said, noting that many more non-Muslims would learn about Imam Ali through the establishment of an academic chair in this name.
Dr. Nakhjavani is known worldwide as a British Iraqi Islamic historian, lecturer and author. His books include Hujr Ibn Adi: A Victim of Terror; Islam: Liberty, Equality, Fraternity; Ramadan Sermons: A Compilation of Speeches and Lectures; The Fourteen Infallibles: A Compilation of Speeches and Lectures; and The Ten Granted Paradise.
Additional contributions to the chair are welcome. Please contact our Development Office at 860-509-9520 or giving@hartsem.edu.
To view the gallery below, click on a photo and use arrow keys to advance through the slide show.