About 75 representatives of the FBI, Hartford area police departments and faith-based community groups gathered at Hartford Seminary on Thursday, June 16, 2016, to discuss ways to educate themselves and the community about cultural and religious traditions that are not their own. The aim was to increase understanding and potentially to prevent the kind of tragedies that have happened around the country when fear of the "other" takes hold.
Charles Grady, Community Outreach Specialist for the FBI, welcomed the participants and spoke briefly about the June 12 mass shooting in Orlando and others like it. "People don't know each other," he said. "They don't know their own neighbors."
Grady explained that he approached Officer Doug Antuna of the Hartford Police Department's Faith Based Initiative to plan a community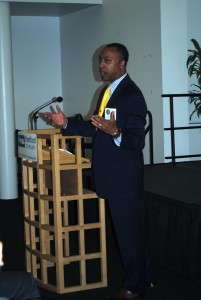 resource meeting based on one that took place earlier this year in New Haven. Hartford Seminary was chosen as the location because of its interfaith focus and educational mission.
"We're here to build partnerships and relationships," Grady said. "It's crucial for the community to get to know each other."
Police department representatives came from Hartford, Manchester, Newington, Windsor, West Hartford, Bloomfield, Wethersfield and East Hartford. Each brought several community representatives with them.
Speakers included Patricia Ferrick, Special Agent in Charge of the FBI in Connecticut, Hartford Police Chief James Rovella, Assistant U.S. Attorney Sarala V. Nagala, and FBI Victim Specialist Courntey Litowitz.
Assistant U.S. Attorney Nagala told the audience about police department training that is available through her office, which investigates hate crimes. In that training, members of different religious communities are brought in to discuss their traditions and faith.
Participants also watched a documentary, "Waking in Oak Creek," which detailed the attack on a Sikh Temple in Wisconsin in 2012 in which six Sikhs lost their lives and a police officer was badly wounded.
In a discussion following the film, the group talked about resources in their various communities and heard from Sikhs, Muslims and Christians in attendance who welcomed others to learn more about their faiths.