The Hartford Seminary Board of Trustees welcomed three new board members during its annual meeting on Monday, May 7.
Two, Julie Grace and the Rev. Jean Amos Lys, are alumni representatives, and the third is a faculty representative.
Julie Grace is a wife, mother, volunteer and free-lance writer. She recently completed a Master of Arts in Transformative Leadership and Spirituality at Hartford Seminary. Previously, she earned an M.B.A. from the University of Arizona and a B.S. from the University of Virginia, both focused on Marketing and Technology. She has worked as a computer programmer for Aetna, a technology consultant for Deloitte, and led product management for internet start-up companies. She grew up as an active member of her Southern Baptist congregation and as an adult joined the United Church of Christ, where she held leadership positions in churches from Chicago to California to Connecticut. Currently, she is a member of the Unitarian Society of Hartford, where she teaches religious education and serves as a worship associate.
The Rev. Jean Amos Lys is a dynamic leader with a passion for winning souls for the kingdom of God through preaching and teaching.
He is a postcolonial theologian whose areas of interest are: Haitian and Caribbean theology; postcolonial biblical interpretations in the Haitian and Haitian American context; the impact of biblical interpretations on the assimilation of immigrants into the American culture; and conflicts between first and second-generation immigrants.
The Rev. Lys holds a master's degree in theology and scriptures from Hartford Seminary and is currently a Marriage and Family Therapist intern at Community Health Resources. The Rev. Lys works as a family counselor with special expertise in domestic/family violence and conflict resolution.
The new faculty representative to the board is Dr. Deena Grant, Associate Professor of Jewish Studies. She received her Ph.D. in Hebrew and Judaic Studies from New York University, specializing in Hebrew Bible. Her book Divine Anger in the Hebrew Bible explores varying expressions of God's anger across major biblical collections. An observant Jewish scholar, Dr. Grant values studying and teaching the Hebrew Bible from a historical-critical perspective and also as it is interpreted and lived out by faith communities.
Eight board members were re-elected to new three-year terms. They are: Dr. Abubaker Al Shingieti; the Rev. Dr. Karen Bailey-Francois; Rabbi Debra Cantor; Wendy B. Grammas; Imam Yahya Hendi; Nancy Roberts; Dr. Ali Shakibai; and Edmund M. See, Esq.
The board also said good-bye to four longstanding members and honored their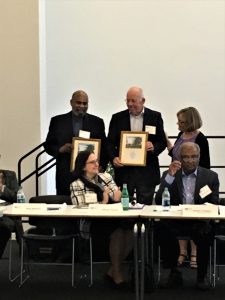 service with a framed citation and photo of the Seminary.
Those members are: Board Chairman Dr. Vanda B. McMurtry; Imam Dr. Salahuddin Muhammad; Trudie Prior; and Eliot "Bang" Williams.
Dr. McMurtry was given the title of Chair Emeritus for a one-year term.