Dr. Leo Lambert, President Emeritus of Elon University, joined Hartford Seminary's Board of Trustees, faculty and staff this month to help launch a new strategic planning process.
President Joel N. Lohr has called the process a "deeply collaborative" one, aimed at new horizons for Hartford Seminary as it embarks on a new era. To underscore that point, the retreat was held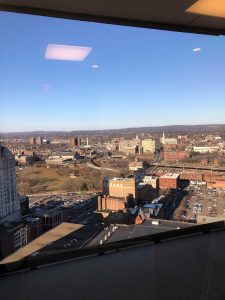 at the downtown offices of Robinson and Cole on the 28th floor with a beautiful view of downtown Hartford and beyond.
Dr. Deena Grant, Associate Professor of Jewish Studies, opened the day with inspiring reflection that included a prayer for wisdom and addressed the recent terrorist attack in New Zealand that left 50 Muslim worshipers dead.
"Our work here is not a dry run. It is urgent," she said. "It is past due."
In preparation for the retreat and as a springboard for discussion, Trustees, faculty, and staff read a book about Elon University's rise to national prominence, Transforming a College: The Story of a Little-Known College's Strategic Climb to National Distinction. Dr. Lambert, who served as Elon's president from 1999 to 2018, used examples from Elon's focus on mission and programming, as well as staying true to its brand, as part of a discussion about how Hartford Seminary can continue to blaze bold new paths in its next stage of history. The strategic planning process will continue throughout 2019.