Hossein Kamaly, Associate Professor of Islamic Studies, has a new book out from One World Publications called "A History of Islam in 21 Women."
The publisher describes the book this way:
"Beginning in seventh-century Mecca and Medina, A History of Islam in 21 Women takes us around the globe, through eleventh-century Yemen and Khorasan, and into sixteenth-century Spain, Istanbul and India. From there to nineteenth-century Persia and the African savannah, to twentieth-century Russia, Turkey, Egypt and Iraq, before arriving in present-day Europe and America.
"From the first believer, Khadija, and the other women who witnessed the formative years of Islam, to award-winning architect Zaha Hadid in the twenty-first century, Hossein Kamaly celebrates the lives and groundbreaking achievements of these extraordinary women in the history of Islam."
Professor Kamaly is a scholar of the Middle East, focusing on the history of ideas. He has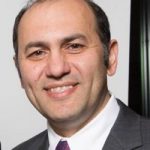 previously taught at Barnard College and Columbia University, and is the author of God and Man in Tehran. He lives in New York and Hartford.