Professor Hossein Kamaly's book, A History of Islam in 21 Women, was selected as one of nine new books recommended last week by editors of the New York Times Book Review.
It's also an Amazon bestseller in the category of "Women in Islam." The book is a compilation of 21 profiles of strong Muslim women who made their marks in history. In her New York Times review, Rafia Zakaria calls them "a feisty and intrepid bunch."
Here is the editor's recommendation: "These intriguing profiles of an empress, an architect, a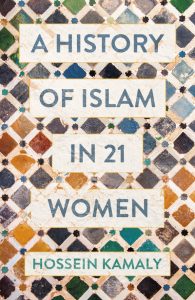 spy and a teacher — among other trailblazers — present a powerful foil against the myth that Muslim women require rescue. Kamaly's stories provide lived examples of women fueled by courage and faith. 'Here in all their gutsy glory are women whose voices have not received the prominence that is their due within the story of Islam,' Rafia Zakaria writes in her review. 'As Kamaly demonstrates, women have been crucial players in some of the most defining moments of the faith.'"
Congratulations, Professor Kamaly!