Bilal Ansari, Faculty Associate in Muslim Pastoral Theology, was one of many Hartford Seminary community members who have taken action against racial injustice as the country and the world respond to violence against people of color in the wake of George Floyd's killing in Minneapolis.
Dr. Ansari met with New Haven Police Chief Otoniel Reyes this week and will meet with him again next week to discuss training his department at the end of June.
This news piece in the New Haven Independent highlights the meeting.
According to the paper, Dr. Ansari asked "Reyes if he would be willing to sign on to Black Live Matter's eight steps for reducing police violence against civilians, including recommendations on not using chokeholds or pressing knees onto suspects' throats."
Also this week, President Joel N. Lohr, Trustee Rabbi Debra Cantor, Chaplain Aida Mansoor, Student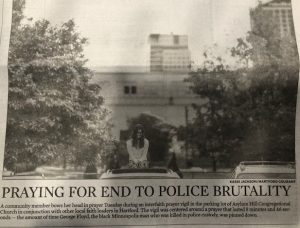 Services Coordinator Liza Arulampalam, and former faculty member Dr. Yehezkel Landau spoke at an interfaith vigil led by Hartford Seminary D.Min. student Rev. Erica Thompson, senior minister at Asylum Hill Congregational Church. David Figliuzzi, a student and admissions recruiter at Hartford Seminary, was a key organizer.
The vigil on Tuesday was covered in this article in the Hartford Courant, as well as a photo the next day featuring Dr. Lohr's daughter, Aviyah, listening to the parking lot vigil from the roof of a car.
On Wednesday, Shanell T. Smith, Associate Professor of New Testament and Christian Origins, gave a moving chapel sermon that was attended by 58 people via Zoom. She titled the sermon "Show Me Your Hands (Jesus)!" A recording of the service will be added here soon.