Steven Havira, Communications Associate, won two awards this month in the DeRose-Hinkhouse Memorial Awards given annually by the Religion Communicators Council.
Havira won the  Commercial or PSA – Single Work category for his video featuring President Joel N. Lohr titled "The Walk," available at this link on YouTube.
Susan Schoenberger, Director of Communications, said the video had a message that resonated with many during the early months of the pandemic.
"Steve worked with President Lohr's moving voiceover and matched the images to the message in a powerful way, gradually going from black and white to full color as the tone goes from questioning to hope," she said.
This is Havira's recollection of the process: "The previous fall before Covid struck, President Lohr and I took an afternoon to shoot a video with the intent to make something – though we didn't know what. I remember it was a hot day, he had a black suit on and a loose concept of walking from his house across the street to campus, trying to catch a day-in-the-life moment. Last summer we returned to the footage in the midst of the pandemic and civil unrest. I saw the footage in a completely new light. It was more than walking from A to B, it was about looking inward. … I wanted to highlight how the Seminary, having been through many social challenges, has always been an anchor for peace. Paired with a poignant voiceover from President Lohr, I am proud of the work we accomplished and feel it's a relevant calling card for the soul of the institution."
Steven also won the category of Design for Article or Story – Single Work for his graphic representation of the article "George Floyd: A Reckoning."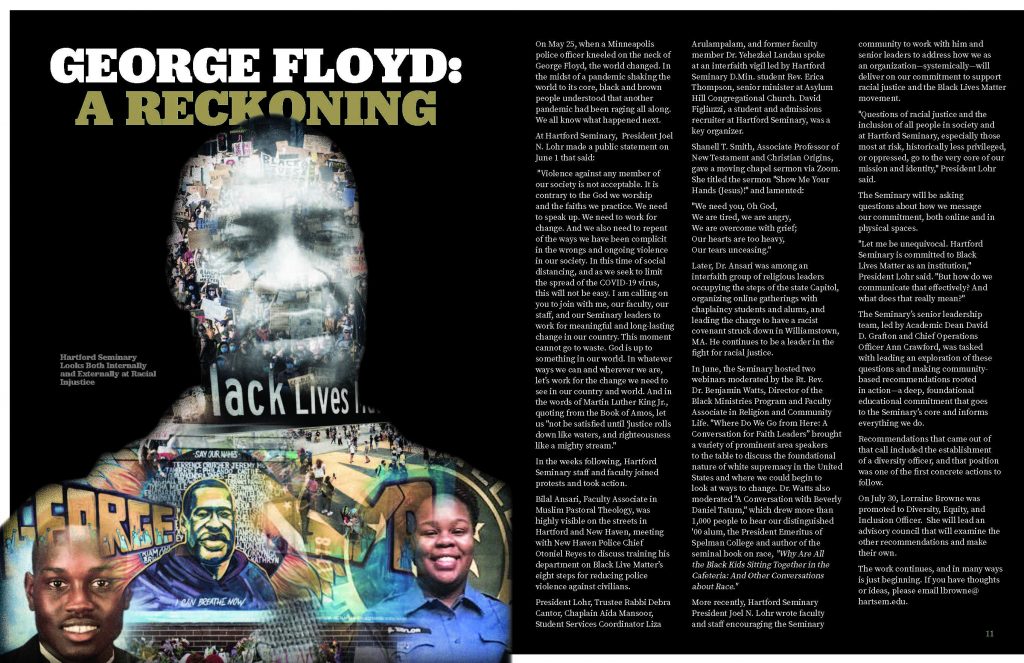 "To design around of the event of George Floyd was challenging," Havira said. "What could you say that hasn't already been said? I took an approach of looking into the future. How will this moment be remembered? By shaping him as a symbol of progress I decided to memorialize his profile in black and white, also carrying this concept through to the pages and text. Those that surround him are in faded color, symbolizing the emerging awareness in the midst of horrible tragedy. In all honesty I'm not sure if I was successful in this concept. I see my creative work as my contribution to society. I try things. Some hit and some don't. However, the more I try and am willing to learn, the more progress I personally make. This idea of progress through education is the main message in the design."
Congratulations, Steve!