Academic Dean David D. Grafton has edited a collection of essays that document the "focus on Islam" launched by the Evangelical Lutheran Church in America (ELCA) in the 1980s.
More than a Cup of Coffee and Tea: A Generation of Lutheran-Muslim Relationships is a testament to the ELCA's efforts to "witness to the Christian faith and listen to Muslim neighbors for the purpose of understanding and to work for a common cause of justice," according to Pickwick Publications, the book's publisher.
With a forward by Presiding Bishop of the ELCA, Elizabeth K. Eaton, and President of the Islamic Society of North America, Sayyid M. Syeed, the book serves as a counterpoint to the rise of Islamophobia in the United States by describing positive relationships with Muslim neighbors and communities.
"I grew up learning to drink coffee and tea from my Muslim sisters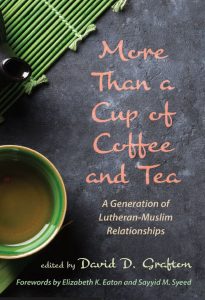 and brothers in Senegal. . . . In a time of continued discord and misunderstanding between Western and Islamic-majority worlds, More Than a Cup of Coffee and Tea is an invitation to listen, to learn, and to be inspired toward making an intentional impact in the distinct contexts in which we live," said Paul-Gordon Chandler, bishop of The Episcopal Church in Wyoming and founding president of CARAVAN.
Dean Grafton, Professor of Islamic Studies and Christian-Muslim Relations at Hartford Seminary, is an ELCA pastor and theological educator who has taught in seminaries in Philadelphia and Cairo, Egypt. He has also served congregations in New Jersey, England, and Cairo. Among other publications, he is the author of Piety, Politics and Power: Lutherans Encountering Islam in the Middle East and An American Biblical Orientalism: The Construction of Jews, Christians, and Muslims in Nineteenth-Century American Evangelical Piety