Welcome to Hartford Seminary!
A Doctor of Ministry (D.Min.) degree is one of the top professional credentials that religious leaders can attain. At Hartford Seminary, D.Min. students have the opportunity to study with top scholars in a unique, multifaith environment. Graduates from this program are well-equipped to take on the leadership challenges of today's diverse ministry settings. Our program is modern, reflective, and well-respected.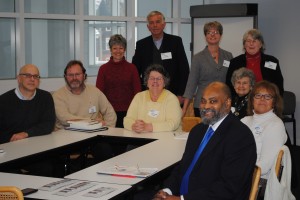 This rigorous academic program includes many courses to broaden your knowledge of ministry, including Essential Skills in Pastoral Counseling and Ministry  and Seven Approaches to Congregational Renewal. Given the contemporary approach of this program, students will also learn how to use technology to enhance their ministry in classes such as Enhancing Congregational Ministry with Social Media (and Other Internet Technologies).
A major component of our D.Min program is the two-year Colleague Seminar. Starting with D.Min. Colleague Seminar I, students learn and collaborate with each other in the reflective practice of ministry.
As part of Hartford Seminary's dedication to interfaith understanding, students will take at least one course on interfaith dialogue or a different faith tradition. Recognizing that all ministry happens in a multifaith world, the program also provides the opportunity to engage in study with the faculty of the Seminary's Macdonald Center for the Study of Islam and Christian-Muslim Relations, the longest running center of its kind.
Tell us about yourself and we'd be happy to send more information about the Doctor of Ministry program at Hartford Seminary.