Join a cohort of multifaith religious leaders* in expanding your practice of ministry for a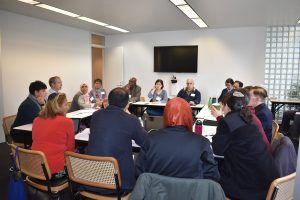 pluralistic, changing world. Attend an information session on Monday, April 30, to hear from current Doctor of Ministry students and faculty members, discuss the logistics of applying and progressing through the program, and get your questions answered. Refreshments will be served.
Together, Doctor of Ministry students have access to the most current contextual information about religious life in the U.S. and around the world; individually, they devise and implement innovative and strategic projects to shape their local contexts for the future. Read more about the program here.
Hartford Seminary is home to students, faculty, and staff of all the Abrahamic faiths, and applications are welcomed and sought from all these traditions and beyond.
*Doctor of Ministry applicants must have completed the Master of Divinity or its equivalent, and have served in full-time ministry (20+ hours per week) for three or more years.