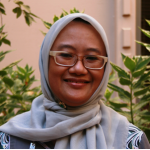 Taqwa Surapati graduated from the Muslim Chaplaincy program in May of 2014 and is a Healthcare Chaplain at Stanford Hospital as well as a volunteer chaplain at Zaytuna College in Berkeley, California. We had a conversation with her about her experience as a Muslim Chaplaincy student at Hartford Seminary.
How did you hear about Hartford Seminary?
I was made aware of Hartford Seminary through my involvement working as a volunteer visiting patients at Stanford Hospital. That time Dr. Ingrid Mattson was teaching at Hartford Seminary, and together with the director of Spiritual care and the Muslim coordinator at Stanford, I developed some initiative to further spiritual care and chaplaincy.
What made you decide to attend?
I know when I am making career change that I had to further my Islamic education at Hartford Seminary. For me it was an opportunity to deepen my faith and gain excellent education to prepare myself as a chaplain. Hartford Seminary has always been in the forefront of Islamic Chaplaincy and is much needed by the American Muslim communities.
What sets the Hartford Seminary environment apart?
The setting: a community of learners, fellow Muslims from different parts of the country and diverse backgrounds. You have to live and learn together despite differences. There is a big cohort of Muslim students each year, that I hope we continue to grow as an educated society.
The faculty: highly professional and qualified senior lecturers, where you learn not only from classroom and discussion times, but from their respectful attitude and love towards one another in social settings. I have never seen any other faculty members behave with such beautiful conduct as our role models.
The curriculum: rigorous and complete, especially for the MA and Islamic chaplaincy. Not every seminary or theological school demands such complete mastery and understanding with weekly reflections! It gave me confidence and in-depth understanding preparing me to work as a chaplain.
The community: an interfaith community within the institution is a good way to train open communication in the real world.
In what setting do you plan on, or are currently, using your Islamic Chaplaincy degree?
I work as a Healthcare Chaplain at Stanford Hospital and volunteer as a college chaplain at Zaytuna College.
In the hospital, I attended to the spiritual and emotional needs of patients, family and staff. I function as an interfaith Muslim chaplain and support the patients in their journey of healing and acceptance with compassion in oncology units, regardless of the patient's faith and belief system. Sometimes, when it is no longer curative I accompany patients and families in managing their painful symptoms and help prepare them for death.
As a college chaplain I attend and support students during their academic years with their struggle and challenges as young adults.
What other accolades, awards, degrees, certificates, etc. have you earned? 
I was a recipient of the Islamic Scholarship Fund in 2014.
What should prospective students know about Hartford Seminary and the Islamic Chaplaincy program?
It is the most comprehensive learning experience with an excellent program in America for Muslim students pursuing Islamic chaplaincy.